Mary Montague Sikes, Author of Evening of the Dragonfly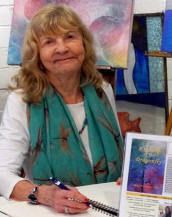 About the Author


Mary Montague Sikes grew up near the bloody Civil War battlefields of Central Virginia where thousands died. Those early years in a landscape where tears still flowed sparked her interest in the psychic and the paranormal that carries over into her writing today.

Sikes loves to travel, especially to the Caribbean and Jamaica where she discovered the legend of the White Witch of Rose Hall Great House that inspired her first novel, Hearts Across Forever. More psychic encounters in Sedona, Arizona led to her novel, Eagle Rising. Adventures in Antigua became the book, Secrets by the Sea. Then, an escapade in Trinidad developed into the story of Night Watch. Her love of "Indiana Jones" type quests took her to the Maya Ruins of Palenque and eventually directed her to write Jungle Jeopardy.

She has been told by readers that her novel, Daddy's Christmas Angel, set in a small fictitious American town, is the "best book I've ever read". The romance is a little like "Sleepless in Seattle" and has a happy ending.An artist before she was an author, Mary Montague Sikes has a scrapbook with drawings she made as a two-year-old. Like Farrah Ferand in Evening of the Dragonfly, she spends many hours each month in a painting studio built over her garage. When she isn't writing or painting, she enjoys travel to exotic destinations that might one day become part of her Passenger to Paradise book series.