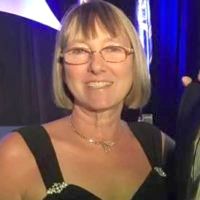 Reserve Now for September 14, 2022  Luncheon Program
Speaker: Lauran Strait 

Creating characters within a vivid and continuous fictional dream.
Use the registration below to reserve your spot or 
click this link. 
Our guest speaker at the September 14th luncheon will be Lauran Strait. She is a former writing instructor and workshop facilitator at the Adult Learning Center in Virginia Beach and is the co-founder and acting executive director of Hampton Roads Writers as well as the president of the Board of Directors and the annual conference director.
She occasionally teaches writing workshops for HRW, the Muse Writers Center, and other local writing groups. She also works as a freelance book editor for a few select clients.
Her print and online work appears in 
Dog-eared, The Gator Springs Gazette, Atomic Petals, Retrozine, The Copperfield Review, A Woman of a Certain Age, Moondance Magazine, Monkey Bicycle, Insolent Rudder, LongStoryShort, Edifice Wrecked, The Virginian Pilot, Whistling Shade Literary Review, Somewhat.org, The Green Tricycle, Reading Divas, The Angler, Salome Magazine, Quiction, Bewildering Stories, Tiny Lights—a flash in the pan, Down in the Cellar, Tuesday Shorts, Six Sentences, and HeavyGlow.
 Some of her other fiction and creative nonfiction appear in anthologies such as 
Random House's Knitlit the Third—We Spin More Yarns, Better Non Sequitur's See You Next Tuesday, and Smith Magazine's Six-Word Memoirs on Love & Heartbreak.
More information about Lauran can be found online. 
https://www.tidewaterfamily.com/learning-fun/lauran-strait-the-craft-of-writing
https://www.linkedin.com/in/lauranstrait
less